How to make a meatloaf in the Air fryer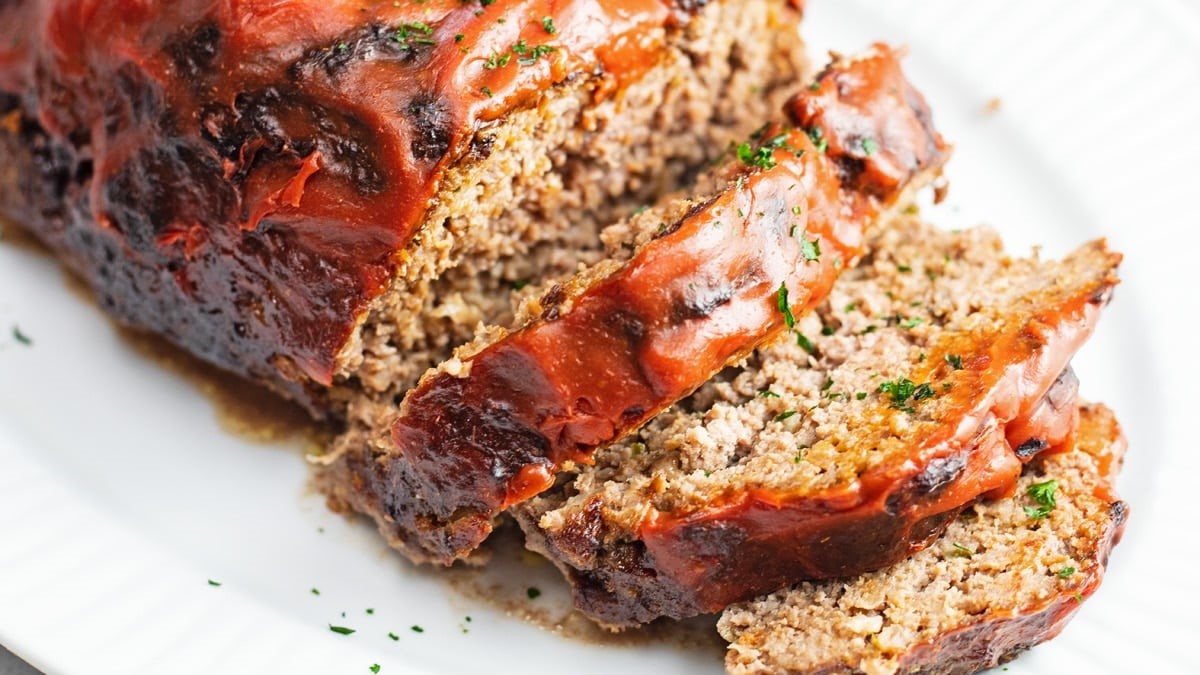 Wait! Did I just say Air fryer in the title? Didn't I mean Instant Pot? Nope, you read that correct. How to make meatloaf in the Air fryer.
I don't know what got into me this past year. I feel like I am a cheater. First I fell in love with Instant Pot, and just maybe found another love in my life. I don't know how the Instant Pot is going to take this. I'll just say there's enough of me to go around:)
Seriously  though ever since I have started back on the Weight Watchers program I am always cooking up something healthy and lean around here these days. I can't even tell you the last time I had a big juicy cheeseburger. If I did, that would have been my points for about two days. I will have a cheat day though on occasion, I just haven't gone for the burger.
I decided to gift myself the Air fryer to try it out. I haven't used my oven since Thanksgiving and before that it was months. Who needs an oven anymore anyway?
As many times in my life that I have made meatloaf I am going to say that this one tasted the closest to my Grandmothers that I ever made. She truly made the best meatloaf. I think now I know what she did. She let the top get crispier. She used to add stewed tomatoes all the time on top. I did the same today but topped it with cheddar cheese. Oh my goodness was it good. This is NOT a weight watchers meatloaf btw. I only had a sliver though. This piece here was for my son. He said "Mom I really like this meatloaf" coming from him, my very critical son, I take that as a WIN!
He did also say the Air fryer is UGLY lol. He asked me what I was going to do to make it look nicer? That was pretty funny actually.
When I took it out of the Air Fryer I couldn't believe my eyes. I took a fork to the top and the slightly crispy cheese just melted and oozed on top. It was super tasty. I don't know about you, but you can bet I ate those crispy slightly burnt edged. Soo good. I suppose if you want to put the cheese on the last few minutes that would be fine as well. We liked it like this.

**All highlighted links lead to Amazon affiliate links. You do not pay anything more from purchasing under my affiliate link**.
Unbeknownst to me apparently some of my Home Pressure cooking accessories work with the Air fryer. I have the smallest one Philip Brand 3.7
. My Insta-pan
fit perfectly inside. That little pan can do some amazing things! Just sayin'.
The Insta-cover
fits as well. The cover I make for the 6Qt. Instant Pot
, I am pleasantly surprised how nicely it fits on the Air Fryer 3.7.
After my meatloaf was cooked I removed it and threw in some home fries. I cut up red potatoes, added a tad of olive oil, seasoning and some balsamic vinegar.
I set the Air Fryer to 350 for 12 minutes. DELISH!~
Do test the potatoes as some were a little firmer than others. Add an additional minute or two if needed. Remember, I'm  a newb at this AF gig.
Can I just say "WOW"? "WOW"! I haven't had crispy food in so long this sure was a treat. Perhaps to some it's no biggie but I literally have been cooking 99% of the time in the Instant Pot. You can't get crisp in the Instant Pot.  I won't be a traitor, I promise. However, this really is a nice addition to the family. My husband just came home from work and he really enjoyed the loaf. He said it was a nice change and loved the texture. Another WIN.
Pin it, share it, make it!
Here is my meatloaf recipe. I did not add the eggs to this recipe today.
PRINT OR SAVE RECIPE CARD HERE:
Thanks for stopping by Home Pressure cooking today! You can also check out my line of goods for the pressure cooker. All highlighted links lead to my Amazon affiliate links.
 We have the Insta-egg pods
, the  Insta-cover
, for 6 Qt.- 3 Qt. and 8 Qt. sizes available now,  the Insta Rack
– the Insta-Trivet/steamer,
and of course the Insta-Pans.
Orange Insta-Pan HERE
Tiffany Blue Insta-Pan HERE
Newest addition to my line is the Flower Bundlette pan
made for the 3 Qt. mini and up.
 The Insta-spices! Insta-Beef,
Insta-Chicken
, and Insta-Pork
. All these spices are amazing in soups, used for rubs, seasoning on salad, veggies and more!
I am really excited you are here.  You can also find me on Home pressure cooking Facebook page where I demonstrate live cooking demos.
Drop your email down below to be the first one to know about all my recipes shared, gadgets and more tid bits for your pressure cooking needs.