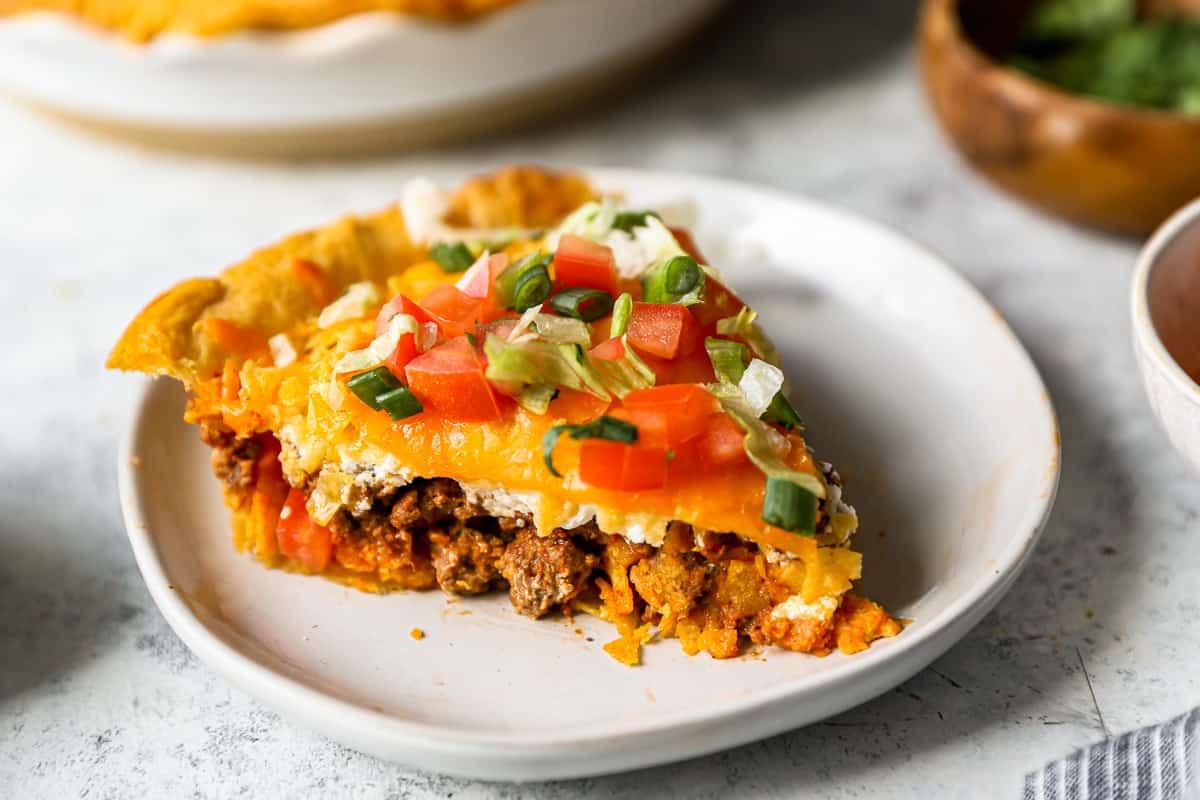 Make a taco pie in the Instant Pot
Ingredients
1 lbs

Ground Beef (95%) lean

16 oz. can

Refried beans

*Black beans work too*

16 oz.

Diced tomatoes with green chiles

1 package

Shredded Mexican cheese

1 packet

Taco seasoning (low sodium)

Optional for topping when finished

Salsa

5-6 round ones

Flour tortillas
What's Cookin!
This was a first for me! My first taco pie in the Instant Pot. I assure you, it will not be my last. It literally took 10 minutes to make. The prep took longer than the cooking time. I have been making this recipe for years. I figured with our Insta-Pan
this would be easily adapted.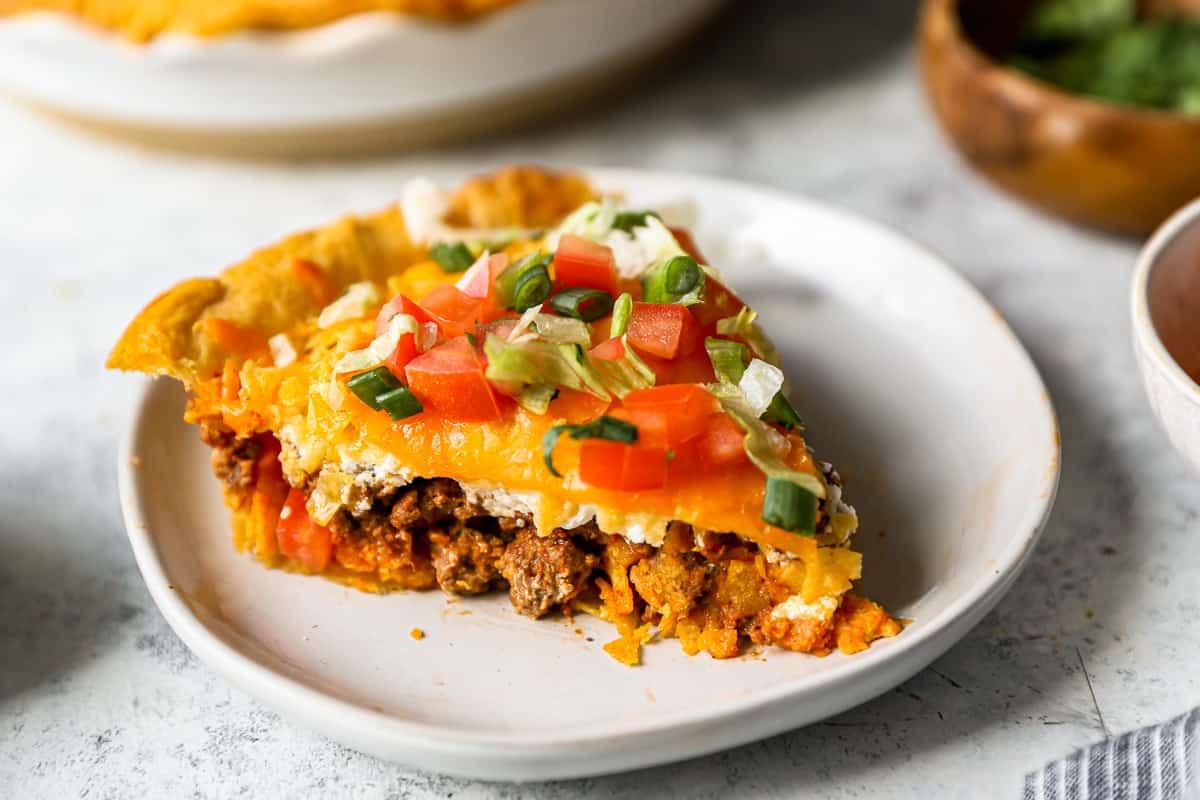 5 layers of yummy in every bite. Believe it or not, this dish is not too fattening. In fact, you can make it even less calories by using a low fat/fat free shredded chicken. The re- fried beans were fat free and they are good for you. The ground beef I used was 95% fat free. You can substitute ground turkey or ground chicken if you wanted. The most high caloric thing in this pie is the flour tortilla's. Even those were 100 calories per tortilla. So not that bad over all. However, if you are gluten free these would be a NO.
I kicked it up just a notch with a few chipotle peppers. My husband loves those and I figured instead of adding them inside the taco pie I would add a few on top for him only.
I would say this could easily feed a family of 4.  You can maybe even stretch it to 6 if you serve some rice on the side. It would only be 1 serving a piece though. Our family always goes for seconds.
Just in case you are wondering what pan I used. My new addition to Home Pressure cooking.  The Insta-Pan. 
Enjoy! Hope to see you back again. See recipe down below.
Pin it, Make it:)
Thanks for stopping by Home Pressure cooking today! You can also check out my new line of goods for the pressure cooker. All highlighted links lead to my Amazon affiliate links.
PRINT TACO PIE RECIPE CARDS HERE
Cards will be high resolution when printed.
Thanks for stopping by Home Pressure cooking today! You can also check out my line of goods for the pressure cooker. All highlighted links lead to my Amazon affiliate links.
 We have the Insta-egg pods
, the  Insta-cover
, for 6 Qt.- 3 Qt. and 8 Qt. sizes available now,  the Insta Rack
– the Insta-Trivet/steamer,
and of course the Insta-Pans.
Orange Insta-Pan HERE
Tiffany Blue Insta-Pan HERE
Newest addition to my line is the Flower Bundlette pan
made for the 3 Qt. mini and up.
 The Insta-spices! Insta-Beef,
Insta-Chicken
, and Insta-Pork
. All these spices are amazing in soups, used for rubs, seasoning on salad, veggies and more!
I am really excited you are here.  You can also find me on Home pressure cooking Facebook page where I demonstrate live cooking demos.
Drop your email down below to be the first one to know about all my recipes shared, gadgets and more tid bits for your pressure cooking needs.
Drain the meat accordingly.
Add taco seasoning packet along with 1/3 cup of water and just a few spoonfuls of the diced tomatoes.
NOTES: While your meat is sauteing get ready to prep pan. I ALWAYS add a tinfoil lip under my Spring form pan. NO matter what Spring form pan you are using I find this to be fail proof way to ensure no extra mess and clean up.
Remove the meat from the inner pot.
Clean inner pot and set back in your Pressure cooker.
Spray your 7' inch Spring form pan with cooking spray lightly.
Layer one flour tortilla on the bottom.
Next take your refried beans and lightly layer on top of the flour tortilla.
Add a layer of ground beef, add a layer of diced tomatoes, sprinkle cheese on top. Repeat the same process until you get to the top of your pan. I was able to do 5 layers.
On the last layer I simply added the diced tomatoes, sprinkled cheese and added a few spicy chipotle peppers on top.
If you do not have a trivet to put your pan on, you can either make a tinfoil sleeve to go under your pan and be sure it is long enough to grab each side so you can lower it in your pot. BE sure to add a cup of water in the pot.
Close lid, set to High Pressure Manual for 15 minutes.
Once your timer has beeped you may do a quick release. Remove pan from pot and let cool on plate for at least 10 minutes.
Slice and serve adding shredded lettuce, more tomatoes, salsa and some guacamole.
Ingredients
1 lbs

Ground Beef (95%) lean

16 oz. can

Refried beans

16 oz.

Diced tomatoes with green chiles

1 package

Shredded Mexican cheese

1 packet

Taco seasoning (low sodium)

1 1/3 cup

Water

Shredded

Lettuce

Optional for topping when finished

Salsa

Optional

Guacamole

5-6 round ones

Flour tortillas