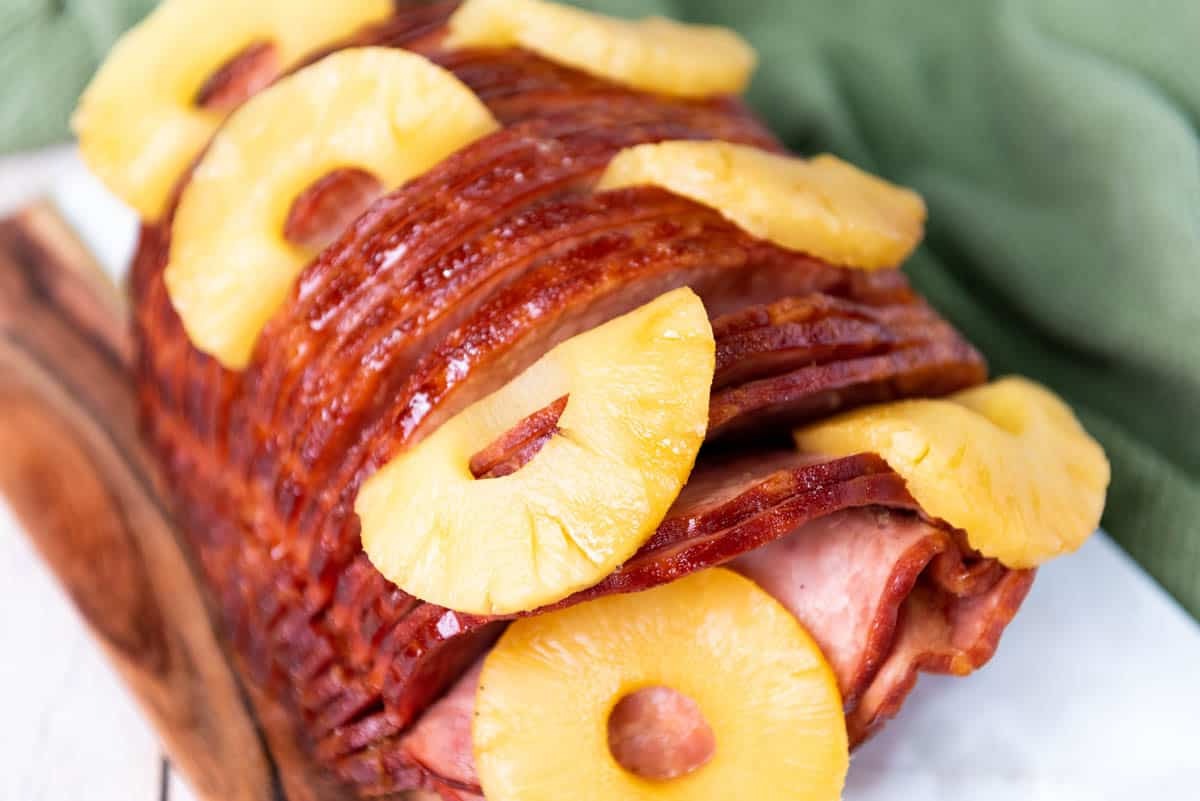 Best pineapple glazed ham in the pressure cooker
Ingredients
2 tablespoons

Orange juice

Medium size, with or without bone

Ham
What's Cookin!
Hello there! Welcome. Today I am joining some of the gals from bHome and we are sharing some Easter inspiration. From home decor to some family favorite recipes.
I am sharing the best pineapple glazed ham recipe made in the pressure cooker. Keep in mind you can use this same recipe in the oven method.
I just so happen to be madly in love with my pressure cooker and truth be told I haven't even looked at my stove in almost 2 months.
This pineapple glazed ham recipe does call for a tad bit of oven use after cooking in the Instant Pot pressure cooker.
Typically when I think of Easter..of course the obvious first comes to mind with being part of the Catholic religion. Then I think of ham, eggs, and bunnies. Let's not forget a few butterflies in the mix.
The beautiful thing about preparing a ham for Easter is that there are always left overs that you can eat for a few more days afterwards.
You can make a beautiful breakfast of ham and scrambled eggs. If you want to get a tad creative you can use muffin tins and prepare tasty eggs and ham mini bites. These would also be lovely if hosting an Easter brunch and you are just looking for finger foods.
Fit 1 slice of ham into each muffin cup (ham will hang over edges of cups). Crack 1 egg into each cup. Bake in middle of oven until whites are cooked but yolks are still slightly runny, about 13 minutes
Now for the best pineapple glazed recipe in the pressure cooker. Enjoy, and many blessings to all.
Thanks for your kind visit.
The recipe I am sharing here today is from my recent 30 meals, 30 days Pressure cooking cook book you can find
You can also find me over on Home pressure cooking Facebook page where I share a live weekly recipe. Best part about the recipes, is probably the ham that joins me, my husband:)
 Please take a gander at some other fantastic Easter home inspired decor and recipe ideas down below.
Monday
Celebrating Everyday Life
Cupcakes and Crinoline
My Soulful Home
She Holds Dearly
Shabby Art Boutique
Tuesday
Redhead Can Decorate
Garden Therapy
On Sutton Place
Debbiedoos
Wednesday
StoneGable
Housepitality Designs
FrenchGardenHouse
Duke Manor Farm
Love of Home
Also as a special little thank you. We are hosting a very lovely giveaway.
Visit April Cornell HERE. Then come back and leave a comment sharing your favorite pattern. Done – entered! The giveaway prize is one Greta's Garden tablecloth and four napkins. The winner will be selected at random at the end of the week and notified by email. This giveaway is open to residents of the United States and Canada. As a special gift to On Sutton Place readers, I am giving away a Greta's Garden tea towel set. So by entering you will have the chance to win two gifts!
Hope to see you back again. See recipe down below. We have a special reduced price on our tempered glass lid. Just $10.99. Fits the 6 Qt. models. Lid HERE
Thanks for stopping by Home Pressure cooking today! You can also check out my new line of goods for the pressure cooker. All highlighted links lead to my Amazon affiliate links.
So far we have the Insta-egg pods
, the Insta-bundle
  and the new Insta-cover
, Insta-LID , Insta Rack
– and of course the Insta-Pan.
  My pan will be back in stock soon. And now the Insta-spices!  All our spices are Gluten free and specially created by my husband. 
I am really excited you are here.  You can also find me on Home pressure cooking Facebook page where I demonstrate live cooking demos.
Drop your email down below to be the first one to know about all my recipes shared, gadgets and more tid bits for your pressure cooking needs.
Combine maple syrup, honey, brown sugar, orange juice, pineapple juice from can, cinnamon, nutmeg ingredients in a medium sauce pan, stirring well
Place the ham in a pressure cooker and half of the liquid of ingredients above. Cook for 15 minutes on manual setting
Transfer the ham to an oven safe dish and baste liberally with the glaze and place a few pineapple slices on top.
You can set the oven to 400 degrees or under a broiler. Allow the glaze to caramelize and just slightly char on the edges (this will happen quickly). Be sure to watch it. Yummy, best ham ever. ENJOY.
Ingredients
1/2 cup

Maple syrup

1/2 cup

Honey

1 cup

Brown sugar

2 tablespoons

Orange juice

1 teaspoon

Cinnamon

1 teaspoon

Nutmeg

1 can

Sliced Pineapple

Medium size, with or without bone

Ham