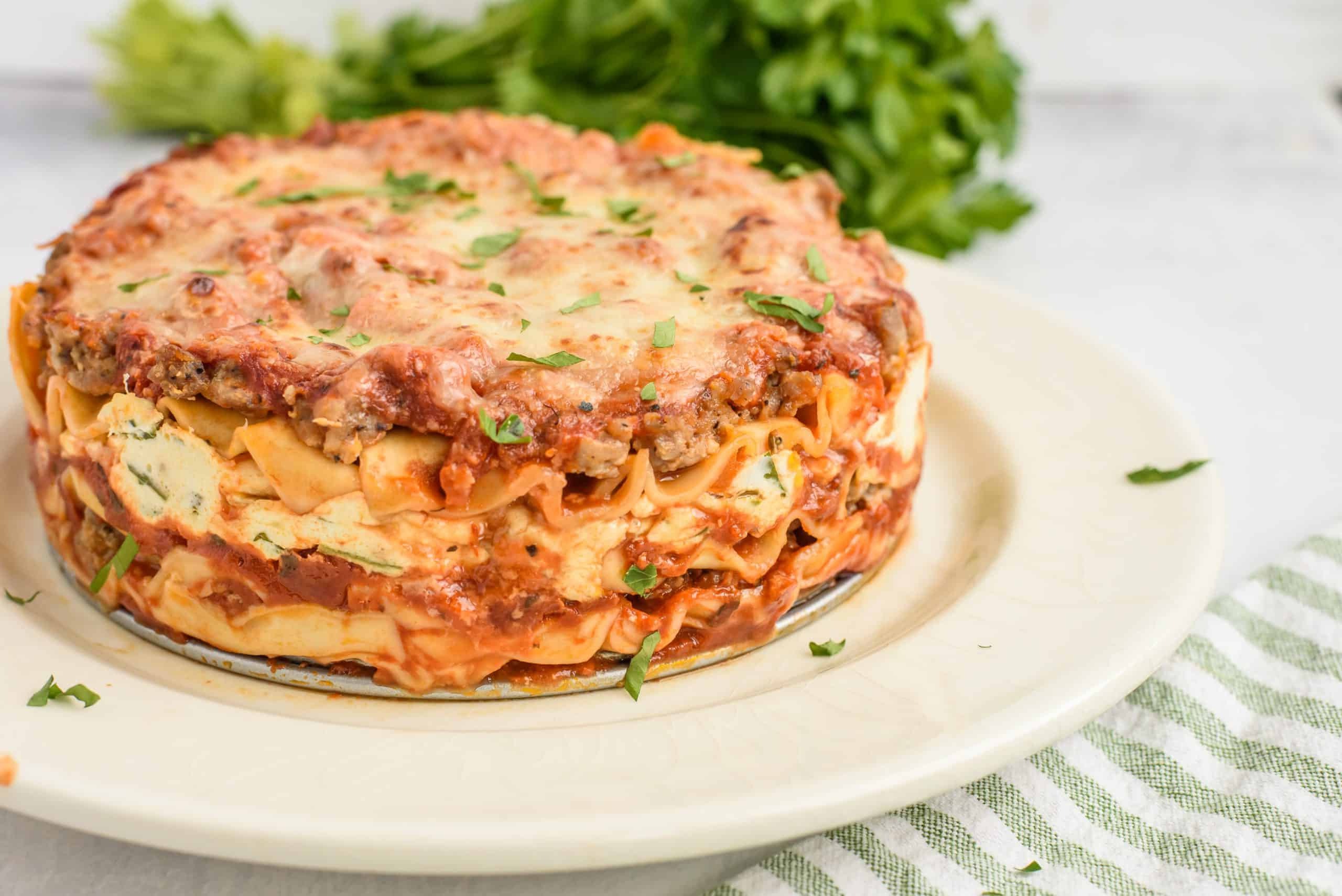 How to make lasagna in the pressure cooker using a 7′ Springform pan
YUMMY! Lasagna in 15 minutes
Ingredients
1 lbs

Lean ground beef

You may use ground sausage, turkey or chicken

Varies

Barilla no boil lasagna noodles

Use as many as you see fit in the pan. I break all mine in pieces as I go, layer, by layer. You may also use regular lasagna noodles

1 jar sauce

Sauce

Use whatever your favorite may be

to taste

Italian seasoning

1 small container

Ricotta cheese
What's Cookin!
I would say this is probably the most popular recipe made in the pressure cooker. Some say it was a fail, while most others say it was a hit in their home. I can you tell you for certain it is a hit in our home and I have made this at least a half dozen times in the past few months.
Today I am sharing how to make lasagna in the pressure cooker using a 7′ Spring form pan. My pan of course, which you can find on Amazon. I will leave you the deets down below. Let's first get to eating. I have my priorities set straight.
This recipe takes no rocket science. Just a few ingredients, layering and a BAM! A little Emerald personality thrown in for good measure.
One pot, one clean up. It's a beautiful thing! Cute lid too right? Yep that is my tempered glass lid made especially for the Instant Pot! and other cookers as well.
I want to note that I indeed did use a little foil lip on the bottom of the pan. JUST in case there was a little leakage I wanted to be safe. I can tell you quite honestly there is not a NO fail spring form pan that you won't get a little something. If they tell you otherwise, I personally don't believe it. The mechanism on Spring form pans, especially mine is very good, and very tight. But the more heavier the contents and liquid the more probability to getting something. The tin foil lip around the pan is really NO BIGGIE! Your lasagna or cheesecake will still be looking quite gorgeous and taste delicious. Find your INSTA-PAN HERE
As you can see very little to no leakage around the foil. But there was some.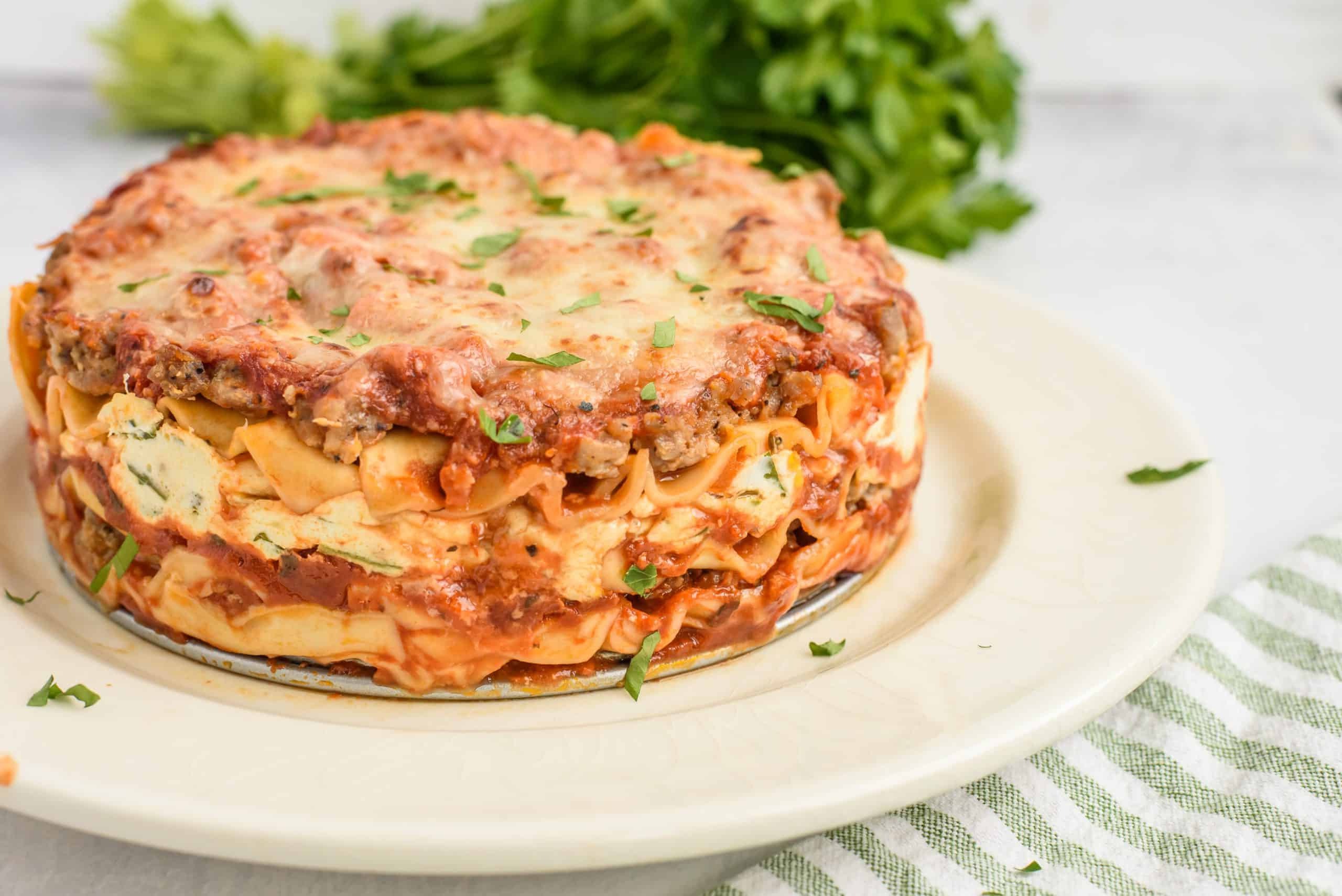 Enjoy! Hope to see you back again. See recipe down below.
Print or save Lasagna recipe HERE
Thanks for stopping by Home Pressure cooking today! You can also check out my line of goods for the pressure cooker. All highlighted links lead to my Amazon affiliate links.
 We have the Insta-egg pods
, the Insta-bundle
 and the new Insta-cover
, Insta-LID , Insta Rack
– and of course the Insta-Pan.
 And now the Insta-spices! Insta-Beef,
Insta-Chicken
, and Insta-Pork
. All these spices are amazing in soups, used for rubs, seasoning on salad, veggies and more!
I am really excited you are here.  You can also find me on Home pressure cooking Facebook page where I demonstrate live cooking demos.
Drop your email down below to be the first one to know about all my recipes shared, gadgets and more tid bits for your pressure cooking needs.
Spray the bottom and sides of your pan with an olive oil or butter cooking spray.
Begin first layer by adding a little sauce, your noodles (You have to break them in pieces) Don't worry how it looks. When all cooked you would never know they looked so bad all scattered about to begin with.
Put your pressure cooking lid on. Set your pot to manual HP (High Pressure).
Add 1 1/2 cups of water to your clean inner pan. If using the Barilla no boil noodles set pot for 20-24 minutes. Add a few extra minutes if using other brand of lasagna noodles.
Once time is up do a QR (Quick release).
Ingredients
1 lbs

Lean ground beef

Varies

Barilla no boil lasagna noodles

1 jar sauce

Sauce

to taste

onion flakes

to taste

Italian seasoning

to taste

Garlic

to taste

Basil

to taste

Salt and pepper

1 small container

Ricotta cheese

Mozzarella cheese

Bay leaf or two