Weight watchers white bean chicken chili in the Instant Pot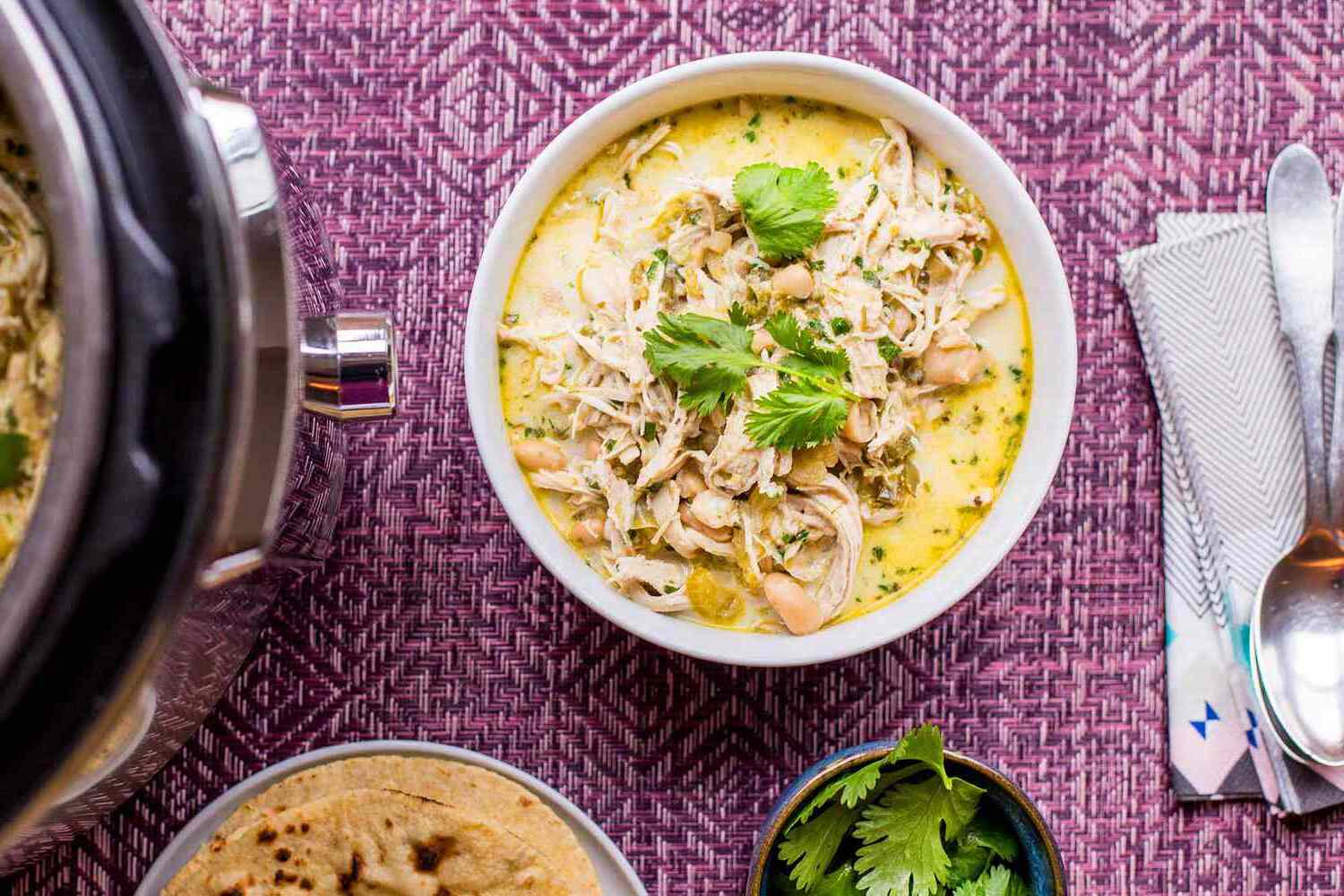 I'm on a roll! I'm also slowly rolling off the extra poundage I have been carrying around!
It feels great to enjoy food just the same, but make better choices. That is what it all boils down to for me. I am still eating plenty, if not more actually and everything taste so delicious. Today I am sharing how to make Weight Watchers white bean chicken chili in the Instant Pot. I did make a jalapeno corn bread to go with. I made that for the family though and am restraining from eating it. It's hard, I can't lie. I suppose one little piece won't kill me.
For the cornbread recipe, I simply followed the box directions for the mix. I used my Insta-pan Bundt portion and cooked it in the pressure cooker for 25 minutes. I used Zatarain's  Cheddar Jalapeno mix. I actually jumped on Facebook live while preparing the chili. The cornbread reveal was done as well. Find Facebook live segment HERE.
It really is the perfect complement with Chili.
I didn't feel one ounce of guilt eating this hearty and delicious white bean chicken chili. It really hit the spot. Adding the hominy in lieu of corn also gave it that extra hearty feel. I was quite comfortable with just one bowl.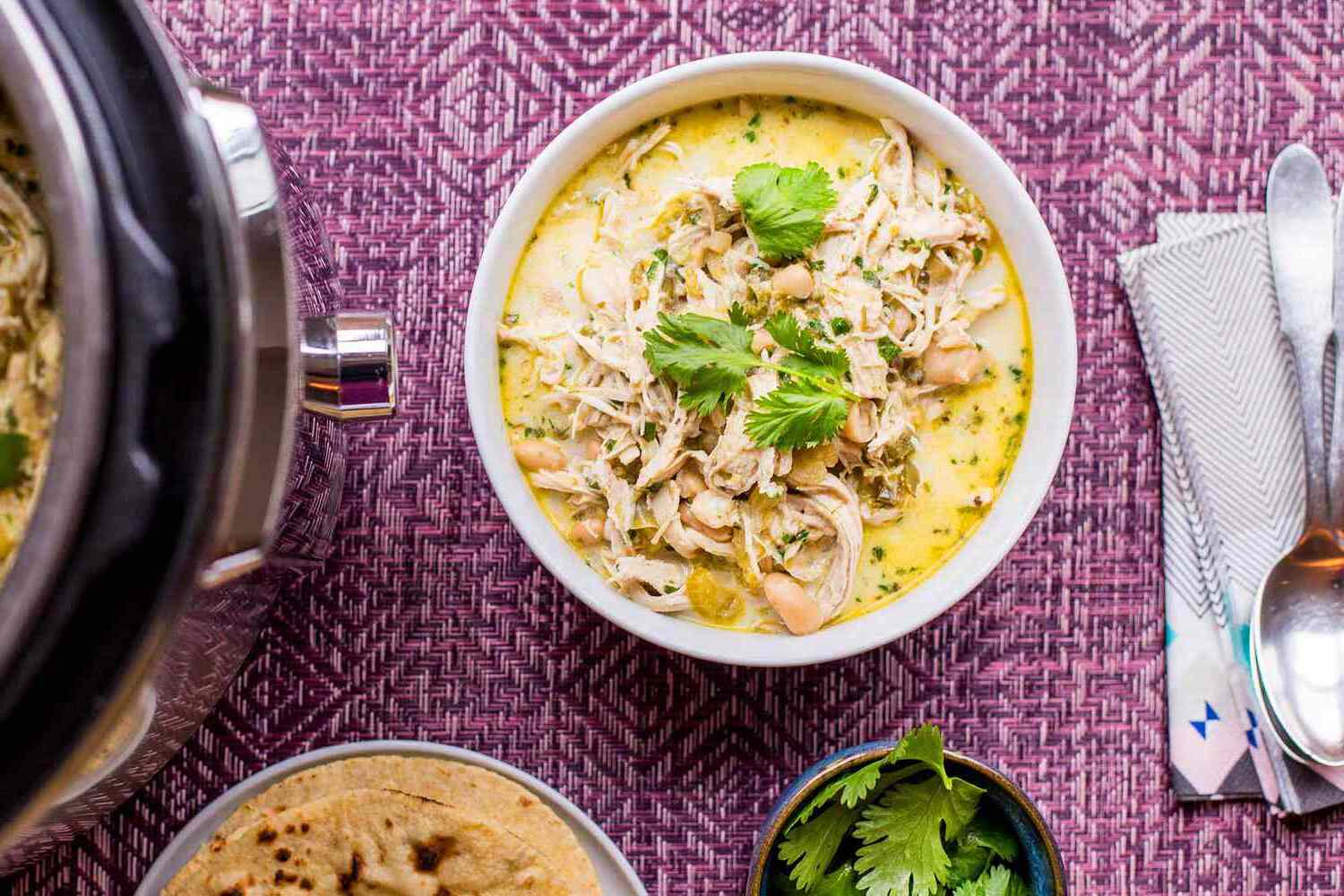 Here is the printable recipe card. Print HERE. I calculated the smart points to be 5 points per serving. I used all low sodium, low fat soups and beans. I could not tell the difference in taste what- so-ever. I also did not top with sour cream. Add another point on for that!
White bean chicken chili recipe:
5-6 Chicken breasts
2 cans low sodium Northern beans, 32 oz. low fat Chicken broth, 1- 4.5 0z. green chopped chili peppers. 1- 10.2 oz. can of low fat cream of chicken soup. 1- can of white hominy. 1- white bean chili seasoning packet.
First, cook your chicken breasts in the pressure cooker. I placed the frozen breasts and 1 cup of water in the pot and set to high pressure manual for 15 minutes. Let naturally release. Drain water and shred chicken either with fork or hand mixer right in the pot. Add chili seasoning, soup, broth 1 can of beans, green chili's and whole can of drained hominy. Add 1 cup of water. Set the cooker for 5 minutes HP. Quick release and add corn starch to thicken and additional can of white beans. Mix well and serve. Top with shredded Mexican cheese, and green onions..don't forget the hot sauce on top!
Thanks for stopping by Home Pressure cooking today! You can also check out my line of goods for the pressure cooker. All highlighted links lead to my Amazon affiliate links.
 We have the Insta-egg pods
, the Insta-bundle
 and the new Insta-cover
, Insta-LID , Insta Rack
– and of course the Insta-Pan.
 And now the Insta-spices! Insta-Beef,
Insta-Chicken
, and Insta-Pork
. All these spices are amazing in soups, used for rubs, seasoning on salad, veggies and more!
I am really excited you are here.  You can also find me on Home pressure cooking Facebook page where I demonstrate live cooking demos.
Drop your email down below to be the first one to know about all my recipes shared, gadgets and more tid bits for your pressure cooking needs.